Herring Ready For The Catch On Lake Simcoe
Anglers can fish for lake herring from Lake Simcoe again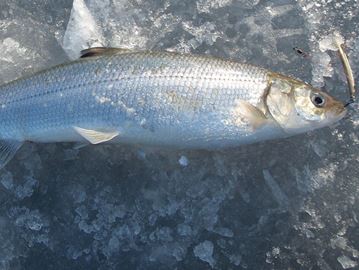 Herring ready for the catch on Lake Simcoe
Courtesy of Ministry of Natural Resources
After 13 years, the lake herring population is healthy enough to allow recreational fishing again, the Ministry of Natural Resources says.
Innisfil Journal
Beginning this month, anglers can catch Lake Herring (Cisco) from Lake Simcoe again for the first time in 13 years.
Based on a positive trend in lake herring populations, the Ministry of Natural Resources and Forestry (MNRF) has re-opened the fishery on Lake Simcoe.
Anglers have been anxiously awaiting the opportunity, said Matt DeMille, manager of fish and wildlife services for the Ontario Federation of Anglers and Hunters (OFAH).
"This is something our members have wanted for many years. It has taken
patience and persistence to achieve, but in the end it is an excellent
example of OFAH collaboration with MNRF and other stakeholders to provide increased fishing opportunities for OFAH members and the entire anglingcommunity," DeMille said.
Lake Simcoe is the fourth largest inland lake in the province providing some
of the most sought after angling opportunities throughout the year. But in past decades the lake has faced environmental issues leading to poor
water quality and degraded coldwater habitat.
The MNRF closed the Lake Herring season on Lake Simcoe in 2001 as the population was in steady decline.
Government and non-government groups come together to improve the water quality by advancing sewage treatments, restricting livestock from
tributaries and reducing soil erosion and urban runoff and fisheries data
started showing a steady increase in lake herring numbers, ministry spokesperson Galen Eagle said.
The OFAH and other members of the Lake Simcoe Fisheries Stakeholder
Committee asked the MNRF to collect the necessary data to determine whether an open lake herring fishery could be sustainable.
Although hesitant in the beginning, the MNRF has dedicated significant time and resources to collecting this data during the last few years, Eagle said.